Discover more from History Club
A space to think critically about the world.
Over 3,000 subscribers
Upcoming events
Tech & democracy summit; the Internet Archive; University of Wisconsin & more
I'm speaking at several interesting events coming up, and so I thought I'd use this week's newsletter to tell you about them.
Tech and Democracy Summit - March 1 (New York)
On March 1st in New York City, our friends at All Tech is Human are collaborating with the Consulate General of Canada in New York for a day-long summit on Tech and Democracy.
Readers will recall last year's summit on Responsible Tech, which I attended and wrote about here.
This year, I'll be on a panel called "Preserving Democracy in the Rise of Digital Repression" alongside:
Amy Larsen from Microsoft's Democracy Forward initiative;

Caitlin Chin from the Center for Strategic and International Studies; and

Michael Miller from CUNY's Colin Powell School for Civic and Global Leadership.
The event is at capacity (apparently there's a waiting list to get in!); however, it will be live-streamed. Sign up here to get the link.
Also - I've been in touch with the good folks at Sugary about a potential VIP, invite-only gathering the night before the summit. If you're in NYC and are interested, please let me know. Once we sort out the details, we'll send an invitation. Paid subscribers to this newsletter will get first access. (Become one here!)
The Internet Archive - March 9 (online)
The Internet Archive (archive.org) is home to tens of millions of books, movies, sound recordings and more, as well as the famous Wayback Machine.
I'm pleased to share that on March 9th, I'm teaming up with the Internet Archive and The Authors Alliance for a conversation about my book History, Disrupted. The conversation will be moderated by Claire Woodcock, reporter for Motherboard at VICE.
The event is virtual, so please join! Reserve your spot here.
University of Wisconsin - March 28 (Madison, WI)
I'm thrilled to be returning to Madison, Wisconsin, (where I've not been since 2014) for a keynote, reception and book signing.
This event is presented by the Friends of University of Wisconsin-Madison Libraries, George L. Mosse Program in History, the Wisconsin Historical Society, and UWM's Public History Project, Department of Communication Arts, University Archives, Center for the Humanities, and German, Nordic and Slavic studies. It'll be at the De Luca Forum of the Discovery Building; Steenbock's on Orchard will cater; and Mystery To Me will be the local bookseller.
For those in-and-near Wisconsin, you can reserve your spot now. It won't be live-streamed (desserts don't taste as good over Zoom).
Added bonus: For those in Michigan, I'll be speaking at Michigan State University the previous day, March 27th. More details to come.
In Case You Missed It
Last year, Moisés Naím, former editor-in-chief of Foreign Policy magazine, interviewed me for his new show, Efecto Naím. The interviewed re-aired on Latin American television this week. Watch it here ⬇️
On Wednesday of this week, I had the privilege to be a guest of the Lithuanian Embassy in Washington, D.C. to celebrate the anniversary of Lithuanian independence ⬇️
Also on Wednesday, the National Council on Public History hosted a roundtable discussion with me about my book, ChatGPT, A.I., social media & history ⬇️
This came on the heels of our History Communication Institute hosting a roundtable with scholars in the U.S., Canada and Europe about ChatGPT ⬇️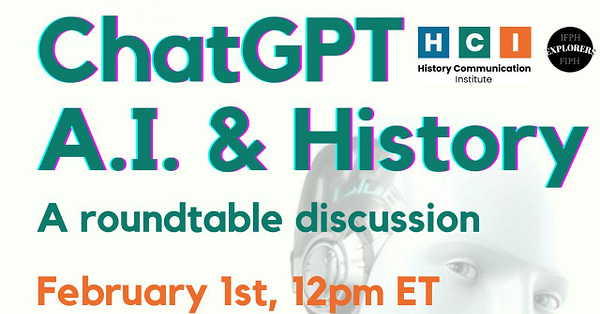 youtube.com
ChatGPT, A.I. & History: A Roundtable Discussion
The History Communication Institute and the Explorers of the International Federation for Public History co-hosted an open discussion on ChatGPT, Open A.I. t...
And if you want learn more about my remarks at the Sundance Film Festival and the 2050 Forums (which I summarized last month), there's a new article in the online magazine Grit Daily ⬇️
Phew!!
So many exciting things happening, so many important conversations that are hopefully ( 🤞 ) sparking meaningful change.
Thanks for being a part of the journey. Please reach out to me if you'd like to organize a conversation or event:
Speak to you next week,
-JS
---
This is a reader-supported publication. To support it, become a free or paid subscriber.
---